Sealing your granite countertops protects the granite from, etches, stains and other damage. However, you need to do this regularly.
Pay attention to this question before you start reading: Do all granite countertops need to be sealed?
The answer is no, but most of them. Not all stone countertops need to be sealed.
However, part of natural stone countertops does need to be sealed occasionally.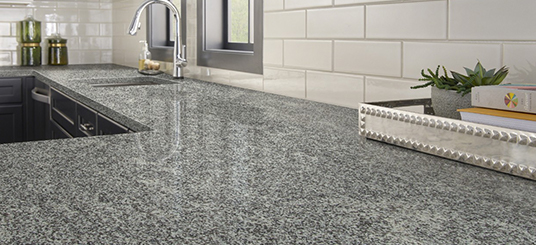 For some stones, sealant is important to keeping your countertop resistant to stains. Sealant also makes it easier to keep your countertop clean and looking good.
The most stones are porous, and the porosity of a stone is influenced by the number of channels, or micro-voids, in the stone itself.
By using a sealer on the stone, you will prevent liquids from seeping into the counter.
How do you know if your stone countertops need to be sealed?
There is a simple test that can help you find out if your bench needs to be sealed.
I want to show you 4 steps you should follow to sealing granite countertops:
Identify when to reseal: You need to pay attention at the right time to reseal your countertop.
To do this, just check if the water is penetrating your bench. Pour some water and if a dark stain appears, it means that your countertop needs to be resealed.
Clean: Before sealing your countertop, clean it. Be careful when choosing the correct product to clean so as not to damage the seal.
Choose the right sealer: Natural stones need an appropriate sealant. You should only moisten the countertop surface but not soak it. Apply the product evenly. Wipe the sealer into the stone using a lint-free cloth.
Polish: Wait about 24 hours after the sealer has cured before you polish the countertops. Apply the stone polish to the surface and then buffing, wipe the countertops dry with a clean cloth.
Considering the high investment, you are making in a surface countertop, you want to ensure you are taking all the necessary steps you can to protect it. You know that investment add value.
Sealing your granite countertops is an important process to ensure you get the most out of this stone since it helps it resist dirt and spills, in addition to preserving the appearance and beauty of the stone.
Granite sealing is also important to ensure greater ease when cleaning, as dirt is easily removed from the surface when it is sealed.
I want to tell you is that at the end of the day, the sealing process, which lasts a maximum of 20 minutes, ensures the best use of your investment.
Show your guests, family and friends how much you like to receive them in an impeccable space.
Do you need some information about this post? Contact us!
We have the greatest selection of top-quality stone-related products from around the world.